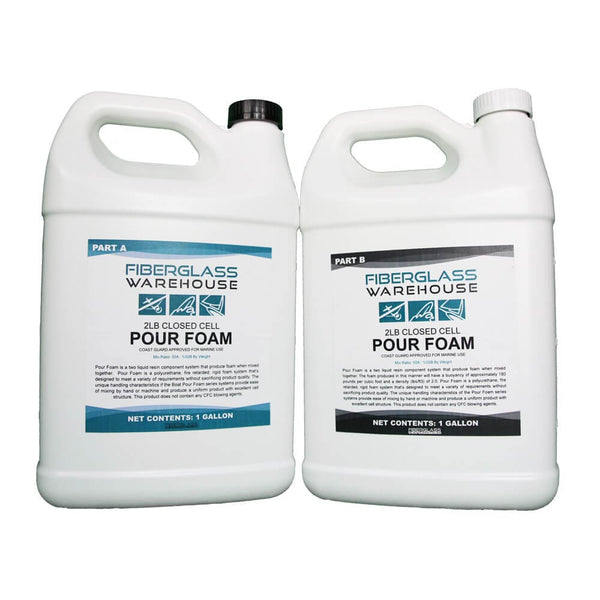 1:1 mix ratio by volume
Coast Guard approved for marine use
Resists water absorption
Ideal working temperature: 75 degrees
For flotation, filling gaps and voids, sound proofing and insulation
Bonds well with multiple pours
Once fully cured, polyester, vinyl ester and epoxy resins can be used
FREE
SHIPPING
100% MONEY
BACK GUARANTEE
ONLINE
SUPPORT 24/7
Details:
2LB Closed Cell Pour Foam is a 2-part liquid system with a 1:1 mix ratio.  It is U.S. Coast Guard approved for marine use and is great for use in dock floats and boat parts. It is an expanding polyurethane foam.  Once it is cured, the foam prevents moisture and absorption and will not be affected by solvents, oil or gas.  The waterproof foam sealant will have a buoyancy of approximately 80 pounds per cubic foot, and a density of 2.0 lbs/ft3. This product does not contain any CFC blowing agent or other Ozone depleting chemicals.
Uses:
-Flotation
-Insulation
-Soundproofing
-Filling gaps and voids
Application:
-Ideal working temperature is 75-77°F
-Wear appropriate safety clothing.
-Pour equal amounts of Pour Foam B into Pour Foam A
-Mix vigorously for about 30 seconds, either by hand or machine
-Pour foam will start foaming after 45 seconds and will completely expand in 7 minutes
-Once mixture begins to look cloudy, it should be poured immediately
-Once fully cured, foam can be cut or sanded as well as coated with polyester, vinyl ester or epoxy resins
Available Sizes:
Quart Kit (2 pints), ½ Gallon kit (2 quarts), 2 Gallon kit
Handling and Storage:
Store in tightly sealed containers in temperatures above 65°F
WARNING: This product can expose you to chemicals including Ethylene Glycol which is known to the State of California to cause developmental problems. For more information go to www.P65Warnings.ca.gov
Question: How much volume does this kit create?
Answer: This kit creates a total of 8 cubic feet.
Question: Can I pour all at once or should I do it in batches?
Answer: I would do it in quart batches. It is tough to mix 2 gallons at once before some of it starts to cream.
Question: Does this foam adhere to the surface it is applied to?
Answer: It sticks to most things unless there is mold release, silicone, or oils used to keep it from bonding. Make sure to wear protective gear because it will stick to clothes, skin etc.