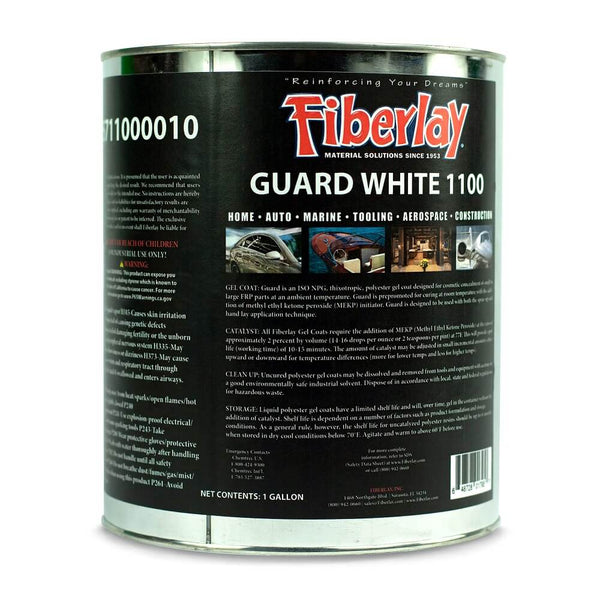 Superior isophthalic NPG resin
Creates high quality finished parts
Durable protective surface
Polishes to a high gloss finish
Great for new parts and repair work
Good weather, heat and water resistance
FREE
SHIPPING
100% MONEY
BACK GUARANTEE
ONLINE
SUPPORT 24/7
Details:
Orca Guard is an ISO NPG thixotropic, polyester gel coat that has great weather, heat and water resistance. It can be used on small to large FRP parts at an ambient temperature.  It cures at room temperature with the addition of methyl ethyl ketone peroxide (MEKP) initiator.
This white gel coat is available with and without wax. Gel coat with wax is typically used for a final tack free hard surface cure. With wax there is no need for PVA, wax paper or the addition of surface seal.  Without wax is usually used for initial layers of gel coat.  It cures tacky which makes it unnecessary to sand between layers.
Uses:
-Mold construction
-Manufactured parts
-Cosmetic gelcoat repairs
-Yacht/Boat construction and repairs
-Spray up process
-Hand Lay-up application
Application:
-Work in a well-ventilated area.
-Use gel coat at room temperature. Ideal temperatures are between 70-95°F
-Wear safety clothing including gloves and safety glasses.
-If using a gel coat gun/spray gun, styrene monomer can be added up to 10% by volume to thin the gel coat. Thinning the gel coat gives it a better flow when spraying.  It can also reduce brush marks when brushing.
-If adding in pigments to color the gel coat, add before the MEKP catalyst. Add up to 1% pigment to resin by volume.
-MEKP catalyst should be used between 1-2% based on volume of the resin. The amount of catalyst used will vary depending on temperature and desired speed of gel time. It is important not to under or over catalyze.
-Apply with a spray gun, brush or roller.  A gel coat gun will give the best cosmetic results without much sanding needed after cure.  A paint spray gun can be used but it is important to wash immediately after use to prevent gel coat from clogging it up. 
Available Sizes:
Quart, Gallon, 5 Gallon and Drums. Call for pricing of drums.
Handling and Storage:
Store in a cool, dry area away from sunlight or heat sources. Polyester gel coat has a limited shelf life.  If stored for too long, it will gel in the can without the addition of MEKP catalyst.
If a paint spray gun is used for spraying, be prepared with acetone to clean the gun immediately after you finish spraying, or else the gel coat will harden in the gun.
Uncured gel coat can be dissolved and removed from tools and equipment using acetone.  It should be disposed of in accordance with local, state and federal regulations for hazardous waste.
WARNING: This product can expose you to chemicals including Styrene which is known to the State of California to cause cancer. For more information go to www.P65Warnings.ca.gov
Question: What is the difference between wax and no wax?
Answer: With wax cures tack free. Waxed gel coat is ideal for the final layer. Without wax cures tacky if exposed to air. There is no need for sanding between layers. If using multiple layers of gel coat, without wax is best. The final layer will need a waxed resin. A waxed resin can be purchased or surface seal can be added to the unwaxed gel coat. Other options are covering the final layer with PVA or wax paper to create a barrier between the gel coat and the air.
Question: Can this be applied over epoxy resin?
Answer: No, polyester resin does not adhere to epoxy resin. You can used epoxy resin on top of polyester resin but not the other way around.?
Question: Does this need to be used with fiberglass or can it be used separately?
Answer: This can be used separately.
Question: Can I add pigments to the gel coat?
Answer: Yes. With white gel coat, the colors will come out pastel. Add the pigments before the MEKP.
Question: Can I thin the gel coat?
Answer: Yes. The ideal thinner to use with gel coat is styrene monomer.
Question: For a small repair, is waxed gel coat the best option.
Answer: Yes. If your repair is a small area, you can use w/ wax. If you add several layers of gel coat, you will need to sand between each coat.
Question: Can this be used on a fiberglass pool?
Answer: Yes, this can be used on fiberglass pools. One of the layers in the lay up needs to be vinyl ester resin as well.
Question: Can this be applied over paint?
Answer: No. All of the paint must be sanded off before applying gel coat.